The Bold Centre strives to bring the highest quality programs, activities, and services to every member of the community. Whether you're interested in fitness or drop-in and league sports and recreation, you'll find unlimited opportunity within the walls of this unique facility.
There are activities designed for the entire family, as well as for each individual so that every person's needs are met. You can even drop off your children at the Cenovus Child Mind Centre where children can play and be supervised while parents attend fitness and recreation classes!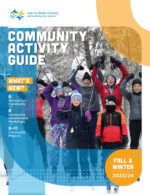 Community Activity Guide
Community Activity Guide Fall & Winter 2023/2024
Recreation strives to provide opportunities that are accessible, and affordable for all ages to the residents both in the hamlet and rural areas. Check out our low to no-cost programs and some newer initiatives and programs under the "Affordable Access" tab to become healthier, happier, and engaged.
Group Fitness Classes, Personal & Group Training Services
Explore the Network of Trails