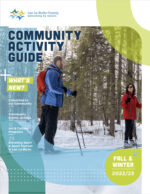 Community Activity Guide
Community Activity Guide Fall 2022/Winter 2023
Testimonials
Great conference. I was impressed by the professionalism/quality of the bold center's ability. [Dr. Clinton – Love Builds Brains Conference
"Amazing facility I go there every time I'm in town."
"Over the past 6 months I have utilized your facility to train for the Canadian Death Race and Iron Horse Ultra 100Km events. During this time I have always been greeted/given farewell by name, given words of encouragement, and treated to some of the highest levels of customer service I have known. This level of service even continued, over the past 2 months, when the cost to use the track was absolutely nothing. Having visited a number of field-houses throughout the province, over this time-frame, I can honestly say that the Bold Center is second-to-none"

Anonymous
"Your team provides a true service to our community, and should be commended for their efforts"
"I like coming here"

Anonymous youth
"The free walking track is wonderful. Please keep it free all winter! I am losing weight and feeling healthier because of regular exercise which is thanks to free access.
"Thank you so much for bringing this Professional Development to Lac La Biche Bold Center. It is so nice to having this wonderful and AFFORDABLE training so close to home! It is appreciated very much." [Dr. Clinton Conference- Love Builds Brains]
"I wish to take this opportunity to formally show my appreciation for your staff at the Bold Center. With your support I have achieved a loss of over 70lbs, a 10 point reduction in BMI, 16% reduction in Body Fat and, most importantly, a huge increase in my mental and physiological well-being. Your team was an integral part of this first achievement. With the spring months approaching quickly, I will soon be leaving the sheltered track to focus on trail training but will keep those days at the Bold Center close to my heart."
The importance of connection – we are wired to connect! Thank you for a wonderful session and "pumping my tires" to continue to work in early childhood development. Excellent speaker and presentation. Easy to listen to. [Dr. Clinton Conference- Love Builds Brains]
"Best place ever to be active"

Anonymous youth
So proud of LLb (FCSS, LLB County, Parent Link)! Thank you for organizing this fantastic conference and inviting professionals far and wide. Thank you for being so productive in times of arranging education and increasing awareness. All your hard work, teamwork, attention to detail and caring ideas do not go unnoticed. Our community is so fortunate to have such a wonderful team who sees the big picture is progressive. Thank you for your excellence.
"Excellent! So amazing to have this in our community"
"Helen always puts a smile on my face every time I walk in. Amazing attitude. I appreciate the morning fitness staff."
"Today my toddler went missing at The Bold Center and I would like to again, extend a huge thank you to all the staff working today. The 5 or 10 minutes this morning that my little adventurous son went missing was honestly the worst feeling I have ever experienced, especially having thoughts in the back of my head about the attempted kid napping attempts in town. Amanda Cheyne from Parent Link was the first staff member I remember seeing and was extremely quick to respond, having multiple staff looking for him in a matter of seconds. I can not express how thankful and safe I felt after he was found. I believe the staff member that found him in the elevator was a gentleman named Gerald. So please thank them again for me. My family has a whole new respect and appreciation for The Bold Center and the amazing staff that work there. From the bottom of my heart, Thank you."
"Fantastic, Clean, Fun staff. Including Custodians!"