Becoming a Lifeguard
Lifeguarding can be a fulfilling career path that provides a fun, social, and physically active first job for teens. Because the National Lifeguard award is recognized nationally and internationally, you can take your experience and certification anywhere! Portage Pool offers the Lifesaving Society National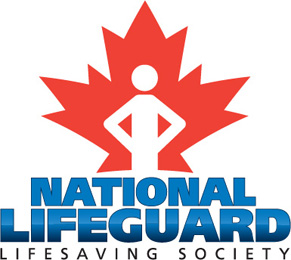 Lifeguard award because the Lifesaving Society is recognized throughout Canada as the standard setting certifying body for public aquatic safety for lifeguard and lifesaving training.
Lifeguards in training will learn in a group environment with an experienced NLS instructor. Leadership courses use a combination of wet and dry activities to teach components of first aid, improve physical fitness, and to develop  lifeguarding principles, good judgement, and mature and responsible attitude toward the role of the lifeguard.
What are the steps to becoming a lifeguard?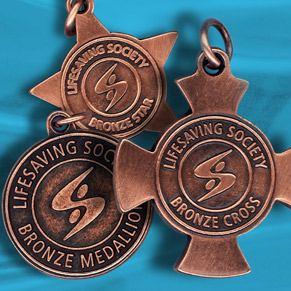 Complete the Red Cross Swim Kids program to level 10 or be able to swim at that level
If you are under 13 years of age and ready to get started, enroll in Bronze Star
If you are 13 years of age or older, or have successfully completed Bronze Star, enrol in Bronze Medallion
After completing Bronze Medallion, enrol in Bronze Cross
After complete Bronze Cross, enrol in NLS pool option. To be successful in this course, you must be at least 16 years of age and have a Standard First Aid and CPR-C award from an affiliate provider
When you become a certified National Lifeguard, the NL award must be recertified every 2 years.
All leadership courses include both wet and dry activities and may include additional reading or assignments to be completed outside of class time, at the discretion of the course instructor. If you are concerned that you or your child will be unable to meet the course requirements, feel free to speak with your instructor in order to receive further assistance and feedback; we're motivated to help you learn the necessary skills required to meet your goals!
 These are the first steps you should take in order to become a working lifeguard. From here, you can take many more courses to develop your experience and knowledge as a lifeguard, including Aquatic Emergency Care, NL Waterfront, NL Surf, Head Lifeguard, and more! Visit the Lifesaving Society of Alberta for more information and course listings throughout Alberta.
NEW!

Becoming a Swimming Instructor
Portage Pool offers child and youth swimming lessons in affiliation with the Canadian Red Cross. Through the Water Safety Instructor program candidates will develop their skills and be provided with additional tools to gain employment in aquatics as a Red Cross Water Safety Instructor. If you're interested in develop valuable work skills and having fun in an active workplace, becoming a Red Cross Water Safety Instructor is right for you!
Pre-Course Requirements
15 years or older by the last day of the WSI – Classroom and Pool, ability to perform Red Cross Swim Kids 10 strokes and skills, and hold one of the following certifications (don't need to be current): Red Cross Assistant Lifeguard Lifesaving Society Bronze Cross, and Emergency First Aid or equivalent.
What are the steps?
Skills Evaluation – 3–6 hours
Online Component – 14–20 hours
Teaching Experience – minimum 8 hours
Classroom and Pool Component – 9 hours classroom, 12 hours pool.
Completion Criteria
Attend, participate in, and complete 100% of all four course components.
WSI—Teaching Experience: complete a minimum of 4 hours in each of a Red Cross Swim Preschool and a Red Cross Swim Kids class within 6 months of finishing the WSI—Online.
For more information on this process, contact Portage Pool or visit the Red Cross Canada website.